THANK YOU Donut Dashers for another GREAT Donut Dash! With over 2,000 participants at Donut Dash No 5 on March 9, 2013, we will donate $40,000 to the Child Life Program at Sutter Children's Center, Sacramento!!!
Donations can be made year round via mail to: Donut Dash 7880 Alta Valley Way, Suite 101 Sacramento CA 95823
Donut Dash was started in 2010 to raise funds for the Child Life Program at Sutter Children's Center, Sacramento. Proceeds from fundraising events are used for programs and activities designed to help children and families cope with their medical experiences. These programs and activities include educating children about their illnesses, preparing them for procedures and surgeries, offering normal childhood play experiences (toys, games, arts & crafts, movies, etc), celebrating holidays and special events, etc. Funds are also used for other programs and activities that directly benefit the children including school supplies, video games and equipment, iPads, exercise equipment, and Beads of Courage.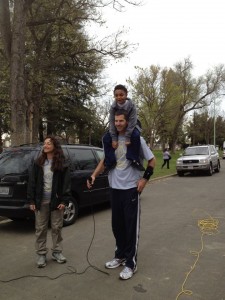 (L to R: Amy Medovoy - Child Life Director at Sutter, Zack Wandell, Kobe B. - Official Donut Dash 4-4-4-4 Starter)
Every March the Donut Dash is held in Land Park with a stop at Marie's Donuts. Participants start in Land Park then run, jog, or walk 2 miles to Marie's Donuts. At Marie's, participants consume 4 donuts OR 6 donut holes OR nothing at all before making their way back the 2 miles to the start/finish area. To date, the Donut Dash has donated over $55,000 to the Child Life Program.