Registration for Donut Dash Ate opens January 2016!
After a successful first Donut Dash in 2009, Donut Dash 501(c)3 was started in 2010 to raise funds for the Child Life Program at Sutter Children's Center, Sacramento. Proceeds from fundraising events are used for programs including Beads of Courage & Music Therapy and activities such as art projects, games, toys, movies, video games, iPads, and exercise equipment. These programs and activities are designed to help children and families cope with their medical experiences, educate children about their illnesses, prepare them for procedures and surgeries, offer normal childhood play experiences, and celebrate holidays and special events during hospitalization.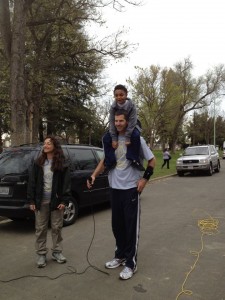 (L to R: Amy Medovoy - Child Life Director at Sutter, Zack Wandell, Kobe B. - Official Donut Dash 4-4-4-4 Starter)
Every March the Donut Dash is held in Land Park with a stop at Marie's Donuts. Participants start in Land Park then run, jog, or walk 2 miles to Marie's Donuts. At Marie's, participants consume 4 donuts OR 6 donut holes OR nothing at all before making their way back the 2 miles to the start/finish area.
To date, Donut Dash 501(c)3 has donated over $250,000 (through April 2015) to the Child Life Program. Cash & In-kind donation totals include funds raised by the Donut Dash, The Duck Dash, & other events and opportunities.
2009 - Donut Dash - $1500
2010 - Donut Dash 2.0 - $3500
2011 - Donut Dash III - $15,000
2012 - Donut Dash 4-4-4-4 - $35,000
2013 - Donut Dash No5 - $60,000
2014 - Donut Dash Seis - $60,000
2015 - Donut Dash Lucky #7 - $77,777.77+
About Donut Dash 501(c)3
So you feel confident with your donations and participation, Donut Dash 501(c)3 is run entirely by volunteers. Expenses from events are offset by goods and donations from sponsors so that 100% of your registration and/or donation is directed to the Child Life Program. We are committed to funding programs, activities, and "stuff" that children use on a daily basis during hospitalization and procedures. Although important, we do not fund research, medical equipment, or staff positions.