About Donut Dash
How it all got started….
One evening while watching SportsCenter on ESPN in February 2009, Zack Wandell, a volunteer since September 2004 in the Child Life Program at Sutter, saw a story about a Krispy Kreme Challenge that started in 2004 amongst a group of friends on the campus of North Carolina State University. The concept was simple: run 2 miles, eat a dozen Krispy Kreme Donuts, run 2 miles back. All of the proceeds were donated to the local Children's Hospital. Knowing there was a need for more "fun" stuff in the hospital, something clicked and Zack thought, "We can do that here!". Soon after, the Donut Dash in Sacramento was created. He spread the word amongst friends to gauge interest, with the promise that if he'd be able to donate $1000, he'd organize the event.
The first step, a donut shop. Many people that grew up in Sacramento know the BEST donuts around are found at Marie's Donuts on Freeport Blvd. The race would have to involve Marie's so the course is naturally set in beautiful William Land Park. Rather than eating a dozen donuts, he picked 4 and thus, 4 miles & 4 donuts became the new standard for the Donut Dash. For the more health conscious folks, a "lite" division was created so that they could eat 6 donut holes, and still enjoy all the fun.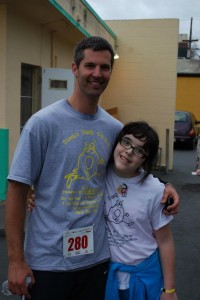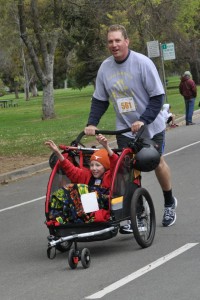 Past Results
In 2009, at the original Donut Dash, there were 25 runners that were able to raise and donate over $1500. The first overall winner was Andy Dahl, finishing in 30:16. The first women's winner was Tracy Auble, Andy's sister and a Child Life Specialist at Sutter.
In 2010, Donut Dash 501c3 was created. At Donut Dash 2.0, there were approx 100 participants with $3000 donated. The overall winner, Chikara Omine, drove all the way from San Francisco and completed the 4 mile & 4 donut challenge in 23:09. The women's winner was Erika Woolson, she completed the challenge in 35:06.
In 2011, at Donut Dash III, there were approx 500 participants with $15,000 donated including 5 iPad2's. The overall, and first repeat winner, was Chikara Omine. As a result of some confusion about needing to eat all 4 donuts before returning to the course, Donut Dash III did not have an official women's winner.
In 2012, at Donut Dash 4-4-4-4, there were approx 1200 participants with $35,000 donated. Winners of Donut Dash 4-4-4-4 (those that ate all 4 donuts before returning to the course):
Overall & Men's Winner for the 3rd time – Chikara Omine in 21:57
2nd Place – Erik Bost in 24:20
3rd Place – Jeff Davenport in 25:13.
Women's Winner – Alexandra Perl in 30:50
2nd Place – Maylin Falke in 31:10
3rd Place – Keather Kehoe in 31:58
In 2013, Donut Dash No 5 was blessed with BEAUTIFUL weather for the 1800 participants with $40,000 donated. For 2013, the course was updated to the current route and a true 4 miles.
Overall and 4X men's winner – Chikara Omine 23:21
Women's winner – Katie Abbot 29:56 (new women's course record)
2nd Place men's – Andrew Londerholm 27:44
3rd Place men's – Eddie Garcia 28:14
2nd Place women's – Bitsy Vigil 34:58
3rd Place women's – Claudia Rogus 35:29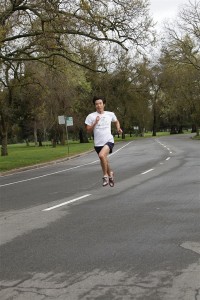 In 2014, Donut Dash Seis again enjoyed BEAUTIFUL weather for the approx 1900 participants with $60,000 donated.
The men's top 3 was a repeat of 2013!
Overall and 5X men's winner – Chikara Omine 26:08
Women's winner – Katie Abbot 31:14 (First back-to-back women's winner)
2nd Place men's – Andrew Londerholm 27:34
3rd Place men's – Eddie Garcia 29:00
2nd Place women's – Kandace Waldthaler 38:45
3rd Place women's – Tracy Auble 39:25
Donut Dash Lucky #7 in 2015 was truly magical! Beautiful weather, largest turnout – approx 2,200 participants, and most funds raised to date. With this year's total of over $75,000, Donut Dash 501c3 has donated over $250,000 lifetime to the Child Life Program at Sutter. We also had a new champion and our first women's 3-peat champ.
Overall and men's winner – Scott Abbott 24:21
Women's winner – Katie Abbott (3-peat champ) 31:26
Men's 2nd place – Dan Lancaster 27:19
Women's 2nd place – Jessica Holmes 32:58
Men's 3rd place – Aaron Danao 28:14
Women's 3rd place – Alexa Magda 35:10